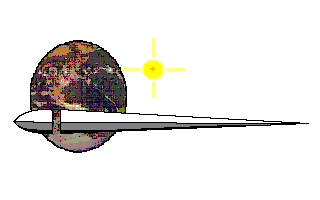 The 7th Annual International Rocket Weekend, 1998
(13th Annual Scottish Rocket Weekend)
Venue : Kelburn Country Centre, Ayrshire, Scotland.
---
Organised by STAAR Research in association with Space & Rocket Enterprises, Paisley Model Centre and Kelburn Country Centre.
---
Meals and Weather
Meals
For meals at Kelburn Country Centre, there is a licensed cafe, and a tea room - the Full English Breakfast they serve is highly recommended ! - normally the cafe is filled with rocketeers every morning of the Rocket Weekend.
Alternatively, self-catering using camp cooking equipment at the tents or in the Pavilion always adds to the flavour of the Rocket Weekend. Food can be purchased locally at Largs or Fairlie.
Outside of Kelburn Country Centre there are a number of restaurants, cafes and pubs in Largs and Fairlie (A Haggis Supper - Haggis and Chips, is not to be missed !). While on the subject of food, the culinary high point of the Weekend is the Barbecue on the Sunday Evening.
---
Weather
The Scottish weather is legendary for its fickleness. Previous years Rocket Weekends have seen variations in the weather conditions ranging from blazing sunshine, through to something akin to tropical monsoons, without the tropics ! All we can say is that the weather conditions are generally not as bad as people seem to expect. In fact, the conditions at the 1997 Rocket Weekend were perfect !
---
[Back | Meals & Weather | Home Page | Rocket Weekend Page | Next]
---