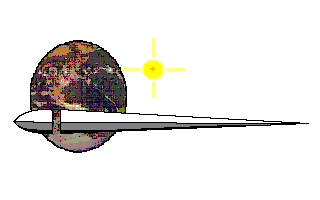 The 7th Annual International Rocket Weekend, 1998
(13th Annual Scottish Rocket Weekend)
Venue : Kelburn Country Centre, Ayrshire, Scotland.
---
Organised by STAAR Research in association with Space & Rocket Enterprises, Paisley Model Centre and Kelburn Country Centre.
---
Competitions
Open / Experimental Competition.
All types of rockets may be flown in the Open / Experimental category - including scale models, competition and sport rockets, single and multiple stage rockets, and winged rocket vehicles.
Boost-Glider Competition.
This competition is open to all rockets which make use of winged gliding recovery, winged rockets, or gliding second stages which separate from a booster rocket.
These models, which are developments of the simple balsa glider, are launched vertically on 'A' to 'D' motors (single or multiple stage), and are then glide recovered. Models may be self-propelled or parasitic. As with helirocs, the best of 3 flights per entrant will score.
All times will be taken from the moment of launch until the end of the flight, or model is lost to sight and not recovered.
Heli-Roc Duration Competition.
This competition is open to all rockets which employ a helicopter or rotating aerofoil recovery system.
Helicopter rockets (or Helirocs), as thier name suggests, go up on rocket power, and are recovered by autorotating blades stored in or around the rocket, and deployed by the motor expulsion charge. These are technically challenging and interesting rockets to build and fly, hence their inclusion in the Rocket Weekend.
They can be flown on 'A' to 'D' power motors. Depending on entries presenting at this event, the helicro competition will be flown off in groups in these motor classes, or with different classes handicapped against each other. All helirocs must be single staged. Each entrant can launch up to 3 flights - their longest individual flight time will be entered on the scoreboard.
Aquajet Competitions.
Less than 1, 1.0, 1.5 and 2 litre and larger models can be entered. In the 1994 event, 4.0 and 6.0 litre aquajets were entered in the greater than 2.0 litre class, and in 1995, a 15.5 litre ginat was launched. Competitions are to be flown off in groups by capacity, pressure agreed on the day.
There is one flight per entrant, the best distance wins.
For the team open distance aquajet competition, the Schwiglhofer trophy is awarded.
Lander Competition.
A new competition to be prototyped for 1997, is a lander competition. The entries will be judged on the basis of lander mechanics / Innovation / Landing Accuracy.
---
Rules
The only fixed rules here are that ALL rockets (apart from Aquajets) must have a recovery system - parachute, streamer or other drag devices, or must employ a featherweight, tumble or glide recovery, and be properly constructed of suitable materials. (No metal body tubes and nose cones). Aquajets generally use tumble recovery.
All types of model and high power rockets in the power range from 1/2 A power up to K power may be flown at the Rocket Weekend, subject to the sanction of the Range Safety Officer (RSO), who will rule on all launches at the Rocket Weekend.
---
[Back | Home Page | Rocket Weekend Page | Competitions | Next]
---