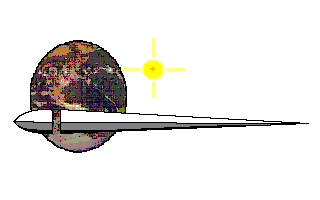 The 6th Annual International Rocket Weekend, 1997
(12th Annual Scottish Rocket Weekend)
Date : Friday the 22nd, Saturday the 23rd, Sunday the 24th and Monday the 25th of August, 1997
Venue : Kelburn Country Centre, Ayrshire, Scotland.
---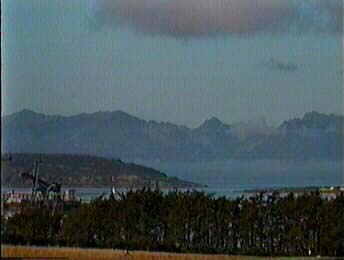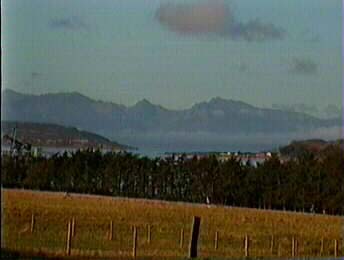 Views from the Rocket Weekend main launch field, across to the Isle of Arran.
1997 Rocket Weekend Report
When you think the Scottish Rocket Weekend cannot get any better, it does ! Yes, the 1997 Annual International Rocket Weekend improved on the already highly successful 1996 Rocket Weekend. Not only was the weather perfect for almost the whole weekend (look at the photos !), but at least 80 people registered - more than ever before, although many more than this were present over the weekend, especially watching the public flying display, and the aquajet competitions. The advance guard, arriving overnight on Thursday were members of the M.A.R.S. Group and HART - they were also the last to leave, late on Monday.
This year, most HPR flights were staged from a more remote launch site, still in the grounds of Kelburn Country Centre. A NOTAM was acquired to allow higher altitude flights, as opposed to the generally low altitude flights from the main launch site.
Competitions.
A number of competitions were staged over the weekend, including Boost/Rocket Glider Competition, Heli-Roc Competition, Lander Competition and Team Aquajet Distance Competition. The results known so far (subject to confirmation) are as follows:
Boost/Rocket Glider Competition.
The boost/rocket glider competition, produced a good number of entrants as usual, as well as much enjoyment, with superb flights by the 3 ranked winners, the first two of whom, David Edgar and Julie Ince, produced nail-bitingly close flights of over 1 minute duration. The prize, a "Mustang" rocket, was donated by UK Rocketry supplier, HPR Limited to David Edgar. This year, following a disastrous run in the 1996 competition, Kevin Cave's 1997 delta winged entry flew successfully, so much so that he made it into the top 3.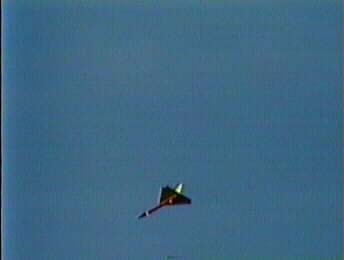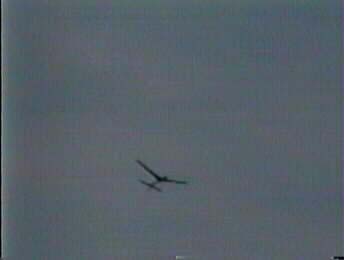 Kevin Cave's delta winged boost glider (left), Julie Ince's modified Quest Flat Cat glider(right)
Position
Name (Organisation)
Flight Duration
(minutes/seconds)
Kit/Scratch-built
Motor Type
Description
1.
David Edgar
1:04
Scratch-built
Unusual 4 winged fin configuration.
2.
Julie Ince (AspireSpace)
1:01
Modified Kit
C6-5
Quest Flat Cat, with motor mounted in pop-pod
3.
Kevin Cave (AspireSpace)
0:47
Scratch-built
Delta wing configuration, with control surfaces deploying at motor ejection
The other entrants, whose designs kept the crowd highly entertained, were Catherine Proctor (AspireSpace) with her 3 entries, which unfortunately, didn't fly as well as they looked, Bobby Wark (ScotRoc) with his scratch-built swing-wing boost glider, Richard Osborne (AspireSpace) with his large, and rather fearsome G-powered Delta-winged rocket glider and Adrian Hurt with his boost glider.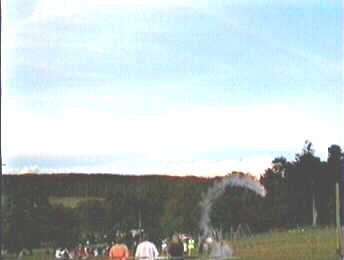 Bobby Wark's entry (left), Richard Osborne's entry (right)
Lander Competition.
Only 3 people/groups entered this new competition, although the show was stolen by an incredible gyroscopically stabilised, gimballed rocket designed and built by James Macfarlane, Mike Proctor and Dan Brown of AspireSpace. The finless rocket, which is an AspireSpace testbed, took off, briefly hovered stably at about 10 feet altitude by gimballing the rocket motor, before dropping onto the ground. Needless to say, the rocket won, and James Macfarlane was awarded the prize - a piece of firebrick insulation from the flametrench used for Blue Streak Launches from Woomera in Australia.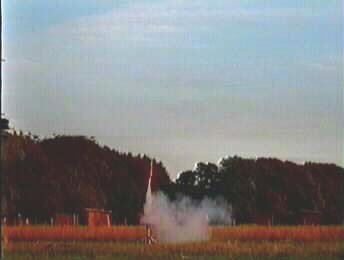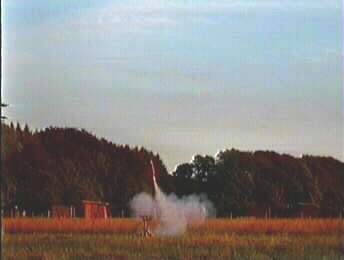 2 frames showing AspireSpace's finless, gyroscopically stabilised rocket gimballing its motor to remain vertical
Team Aquajet Competition.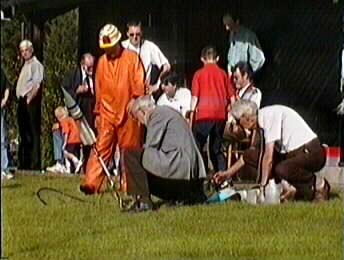 The Paisley Rocketeers aquajet team
Details to follow shortly.....
Heli-Roc Competition.
Details to follow shortly......
Other Highlights included:
Kev-3 is unveiled to the world ! (left), Launch of Kev-3 (right)

The launch of KevRoc-3 at dusk on the Sunday evening - the largest rocket launched at the Scottish Rocket Weekend ever ! Dwarfing the 1996 Rocket Weekend launch of Nemesis-3, KevRoc-3 launched spectacularly with a large sheet of flame. Following the launch, KevRoc-3 provided a spectacular failure when the ejection charge fired prematurely, pushing the payload section off the rocket, pulling the parachute out, and causing the rocket to spin, and then crash. Needless to say, it is unlikely that KevRoc-3 will ever fly again. Interestingly, an hour or two after the KevRoc-3 spectacle, the Kev team were busy having a KevRoc-4 meeting ! .....there may be trouble ahead !

Launch preparations of Andy Rowe's PML Ultimate Endeavour, launch, and just prior to parachute deployment !

The launches of Andrew Rowe's rather large, PML Ultimate Endeavour on the Friday and Saturday. Launched 3 times at the rocket weekend, each time on a J350 AeroTech motor, the Ultimate Endeavour really was a show stopper. In fact, everyone's heart's stopped when it looked like the rocket was coming in ballistically on the 3rd flight. Luckily, the ejection charge did finally fire, allowing the parachute to deploy.

Launch of Guy Gratton's aquajet rocket

The attempted launch of the world's largest aquajet by Guy Gratton on the Sunday afternoon. Guy had previously built and successfully launched a 15 litre aquajet at the 1995 Rocket Weekend. This time, he excelled himself, and produced a 30 litre aquajet, constructed of an array of 1.5 litre plastic drinks bottles, with 3 enormous fins. Unfortunately, it didn't take off, but did succeed in producing a large shower of water.

The ongoing fierce (but good natured) pre and post launch battle between Boost/Rocket glide competition entrants, Bobby Wark (ScotRoc) and Richard Osborne (AspireSpace). In the end, Bobby Wark's lightweight swing-wing entry cleared the launch rail after lift-off, looped and crashed into the ground whilst still under power. Richard Osborne's entry faired only slightly better, when his G-powered, Delta-winged entry, weighing almost 1 kilogram, blasted off spectacularly on the 5 second burn of a Rocket Services, G30 Comet motor, but nosedived after apogee, leaving it rather crumpled. Both entrants will, needless to say, be back next year, to entertain the crowd !

The men from M.A.R.S. pose by Kendo Magic (left), Launch of Kendo Magic (right)

The flight of Kenneth Lau of M.A.R.S.'s Kendo Magic to over 5000 feet (Exact figure to be confirmed), from the High Power launch site on the Sunday morning. Kendo Magic was powered by an AeroTech J350, and carried a Black Sky Research ALTACC Altimeter/Accelerometer.
UK Rocketry Association (UKRA) Annual General Meeting
The Annual General Meeting of the UK Rocketry Association (UKRA) was held in the Pavilion on the Saturday evening from 8:00 p.m. to 9:00 p.m. Following votes sent by post and votes cast at the Scottish Rocket Weekend, the AGM saw the results of the election of officers for UKRA posts for the coming year. John Bonsor of STAAR Research chaired the meeting for the second year.
Groups and Companies attending the 1997 Rocket Weekend included :
AspireSpace,
ASTRA,
Aylesbury Rocket Club,
Discovery Club,
HART,
HPR Limited,
MARS,
Paisley Rocketeers,
ScotRoc
STAAR Research,
Thrust Rocket Club.
---
Another, independent report of the 1997 Rocket Weekend, complete with photographs, has been written by Peter Barrett of HART. It is available at the HART World Wide Web Pages.
---
[Back | 1997 Rocket Weekend Report | Home Page | Rocket Weekend Page | Next]