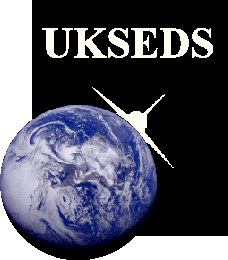 UKSEDS Education
---
Introduction
One of the best ways for UKSEDS to promote space science and astronomy is through education. This is one field in which enthusiastic students such as ourselves can make a real contribution to a higher public level of awareness and understanding about space.
UKSEDS education are interested in taking space into schools. If you are a teacher and are interested in either having a UKSEDS member or another speaker to come and talk at your school, please contact us at education@uk.seds.org.
Also, if you would like to share your enthusiasm for space with an audience, by giving a space-related talk or demonstration, we can help you to put your ideas into practise. Again, please e-mail us at the above address.
Education resources
One of the big benefits of being a national organisation is that we have a lot of contacts through our members. We'd like to build up a database of schools and educational establishments we have contacts with. This means that when someone wants to give a talk to a school, we can set it up really easily.
Even if the speaker is amazing, talks to school students really need visual aids, such as slides. It would be a good idea to build up resources that will be useful to UKSEDS members giving talks to schools.
Giving talks and School Space Days is great, providing they're pitched at the right level, and are relevant to the course of learning of the school students. To make this easier, we've put the space-related sections of the National Curriculum on this website - click here to get to them.
National Science Week
National Science Week is held annually around Easter time and is organised by the British Association. NSW is a week of events held across the country, with the aim of increasing public awareness of science. UKSEDS aim to organise an event every year to coincide with NSW. This year (2000) NSW is running from 17th to 26th March and we will be collaborating with the Challenger Learning Centre, the National Space Science Centre and the Universtiy of Leicester. Events will be running throughout the week, culminating in an afternoon of space-related activities in the Shires Shopping Centre, Leicester.
If you would like to know more about National Science Week and events in your area, take a look at the British Association website. Alternatively if you are a UKSEDS member interested in organising an event, we can put you in contact with like minded people at the very least.
If you have ideas for events please contact us. A suggested event which could be organised if enough willing volunteers were brought together is Solar System UK. Details of this idea are given below, if you would like to take up the challenge then let us know!!
An event which could be held during National Science Week to really put UKSEDS on the map:
We're planning to build a scale model of the solar system, with the Sun at Greenwich and the nine planets at various schools throughout the UK, stretching out to Pluto in Edinburgh. Each planet would form the centrepiece of a display of space related projects done by pupils at the schools. We are also hoping to hold talks by UKSEDS members or local speakers at the schools concerned. In this way, we hope to make SET99 a big event with educational benefits for pupils at the schools, as well as promoting awareness of space. Things are going to start moving on this project in the next week or so, so we'll need more enthusiastic people to help!
Click here for more information!
Online education
We're currently looking for links to space - related educational websites we can put on our website. For a really good example of an educational space website, see NASA's "The Space Place". See also the links on this page.
More importantly for UKSEDS, we're also looking for other organisations to put links to our site, on their webpages. The more Internet traffic we get, the more people know about UKSEDS. Any suggestions here are welcome!
---
Space education sites on the web
One of the easiest ways to find information you need is by using the Internet. We've built up a collection of links to useful sites here. If you can think of any more good educational links, please contact us!
Kids
Older students
Online resources for teachers
Other organisations
---
The space sections in the National Curriculum
Here's what school students get to learn about the Universe as part of their study.
---
The Education Committee 1999 - 2000
You can mail the whole committee at education@uk.seds.org
Want to help?
If you've read this webpage and have any suggestions to make, or want to help contribute to raising the level of awareness of space in this country, there are two ways in which you can help us.
If you have any suggestions or comments, or want to get involved in any of the projects listed above, please email us - we welcome all input!
If you want to really make a contribution, join the Education Committee. The more areas of the country we have involved in our education efforts, the more we can accomplish. In other words, we want volunteers!
---